Tourist and sports activities around La Ferme Morin La Ronde Fontaine in the Jura mountains, Haut-Doubs, Bourgogne-Franche-Comté.
GR 5, GR footpath
The famous hiking trail 5 (GR 5), starting from the North Sea to reach the Mediterranean, crosses the Jura mountains a few hundred meters from the farmhouse.
GTJ, Grandes Traversées du Jura
La Grande Traversée du Jura by mountain bike is a bike trail that allows you to browse the Doubs and Jura through the Natural Park of Haut-Jura. Its route marked and secured of about 380 km just passes in front of our farmhouse.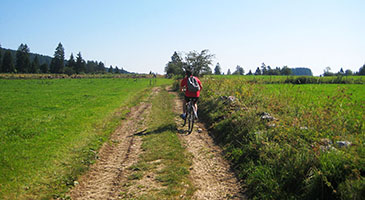 Alpine skiing and cross-country skiing
You will find cross-country ski runs in 200 m of the farm.
Combe Saint-Pierre Charquemont station (3 km from the farmhouse), with 3 lifts, delight lovers of alpine skiing.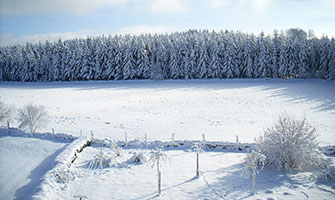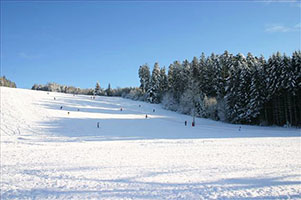 Doubs, a paradise for fishermen
The diversity of environments and rivers enable you to catch pike perch, trout, pike and carp in the rich waters of the Doubs.

Snowshoeing
The many trails and paths around the farm offer beautiful routes for snowshoeing in winter.
Échelles de la mort
Échelles de la mort via ferrata, located near Fournet-Blancheroche, is a magnificent site to practice trekking along the Doubs.
The cliff is equipped with ladders, bridges, beams and a zip-line.
It is a picturesque and historic place. Once the smugglers were using for their freight traffic between France and Switzerland with wooden ladders.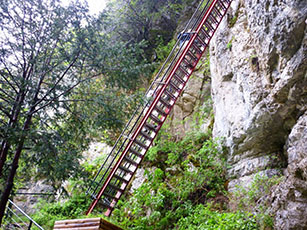 The Saut du Doubs
The Saut du Doubs is a waterfall located on the Franco-Swiss border, specifically in Villers-Le-Lac.
Boat rides are organized to discover the Gorges du Doubs and the Saut du Doubs.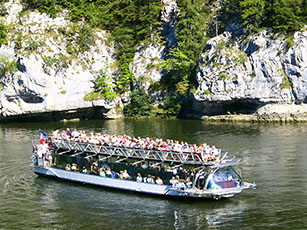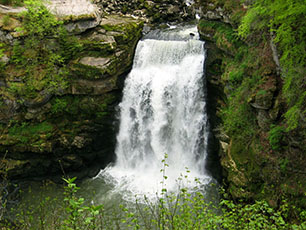 Geocaching with GPS Safari
We offer you GPS to participate in the hunt and adventure GPS Safari.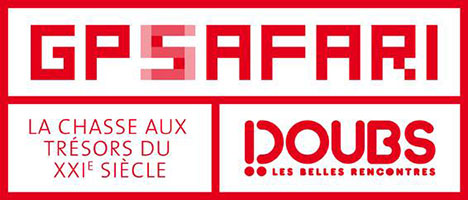 Nature coaching sessions
Possibility of nature coaching sessions for healing and well-being with a certified coach at La Ferme Morin.
Philiberts lookout
Philiberts lookout is a view-point overlooking the valley of the Doubs. We observe the water court surrounded by cliffs and pine forests. It is 500 meters from the farmhouse.